The CSTO Joint Staff held consultations on the organization of joint training of command bodies and formations of forces and means of the collective security system in 2023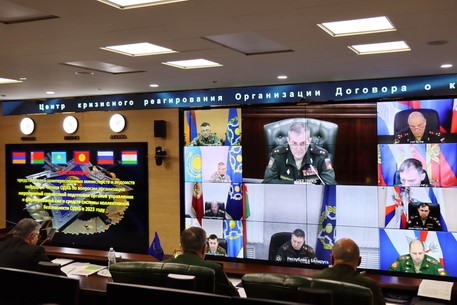 11.02.2023
On February 7-9, via videoconferencing, on the basis of the CSTO Joint Staff, the consultations were held on the organization of activities of joint training of command bodies and formations of forces and means of the CSTO collective security system of in 2023.
The representatives of interested ministries and agencies of the Republic of Armenia, the Republic of Belarus, the Republic of Kazakhstan, the Kyrgyz Republic, the Russian Federation, the Republic of Tajikistan, the CSTO Secretariat and the CSTO Joint Staff took part in the event under the general supervision of Lieutenant General Khasan Kaloev, First Deputy Chief of the CSTO Joint Staff.
As a result of the consultations, agreements were reached to be guided in the preparation of joint and special trainings planned for 2023 by a training scenario of the military-political and strategic situation in the CSTO collective security regions developed by the CSTO Joint Staff and the Regulations on the procedure for preparation and conduct of joint trainings in the CSTO format, approved by the CSTO Collective Security Council.
A working meeting to develop plans for joint trainings with the CSTO Troops (Collective Forces) and staff talks have been scheduled.
Go back